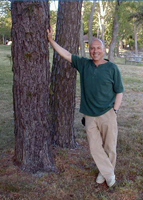 Over 42 years of experience.

At age 14 Joe began working as a laborer with a close family friend who was a mason contractor. Joe worked with the friend on weekends and during summer vacation when Joe was off from school. Early on, Joe's friend started teaching Joe how to lay brick, block, stone, build steps, finish concrete, as well as how to construct other masonry projects. By the time Joe was 17 Joe was a mason apprentice.

When Joe was approximately 19 years old his friend also began teaching him how to construct fireplaces and chimneys.

In his early twenties Joe and another close friend of Joe's began their own masonry business which continued for two or three years until a point in time when Joe and his friend each started their own individual masonry businesses.

In 1991 Joe attended chimney certification classes and subsequently, in the same year, became a certified chimney technician.

In 1992 Joe expanded his masonry business by incorporating chimney lining, chimney relining, and chimney restoration.

Joe currently owns and operates his own company - Pyramid Masonry & Chimney Lining Company.